frequently asked questions
Ask the Experts
If the answer to your question can not be found below or through the links on this page, please contact us so we can help. We do our best to respond as promptly as possible after hours!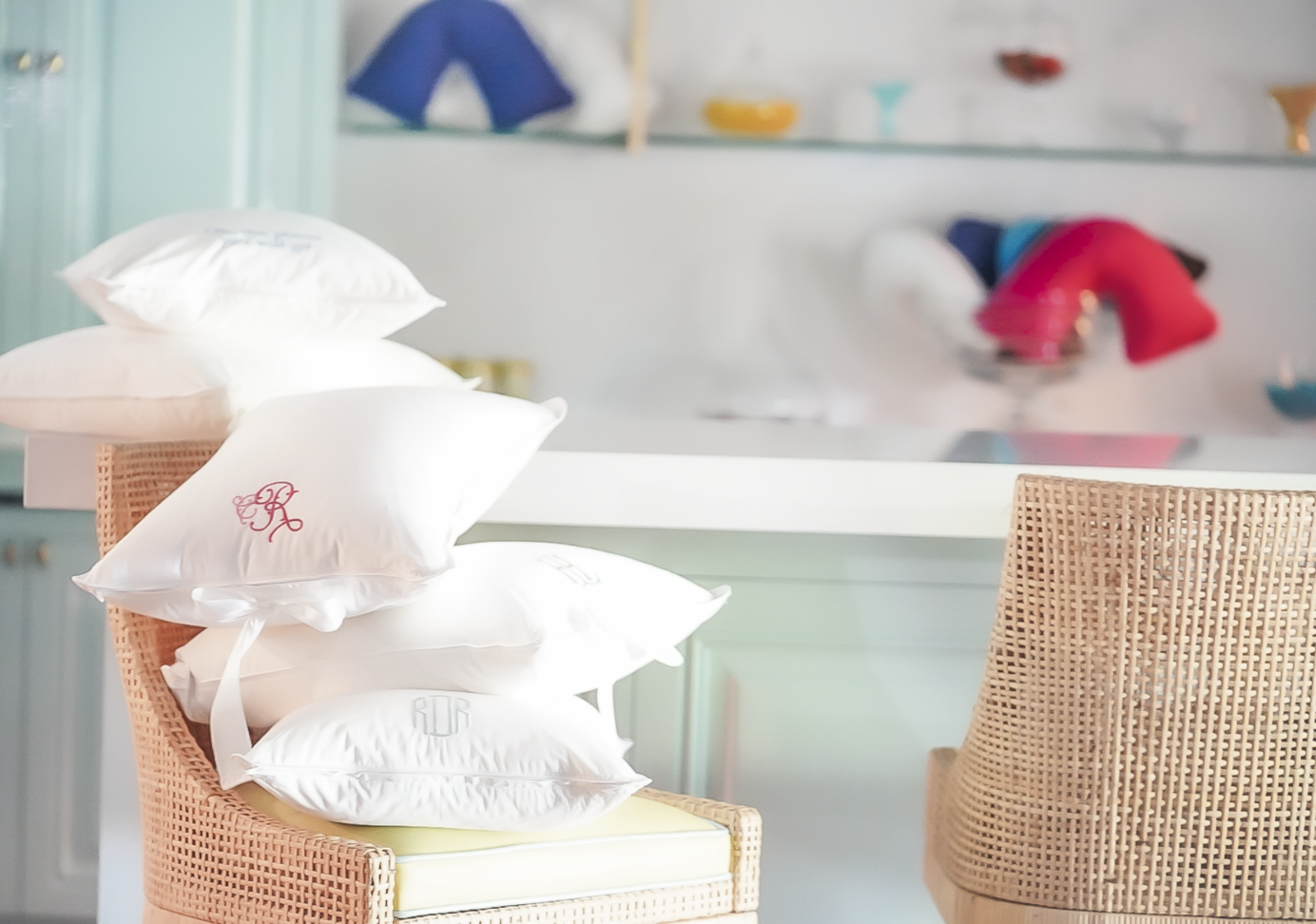 Products
Embroidery
Shipping
Orders & Payment
Returns, Refunds and Warranty
Wholesale
Contact Us
Products
What is the difference between down and down alternative?
We use 100% hypoallergenic European down that is BlueSign® certified and cleaned without any chemicals to harm you or the earth. Our Responsible Down Standard certified, 650 fill-power, pure Hungarian down fill provides a cooler sleeping environment and maximum breathability. Our Down will never have any sticks or quills like you find with feathers, which also makes it hypoallergenic.
Our Down Alternative is a proprietary blend of combed polyester fiber designed to mimic the luxurious density and loft of naturally-sourced down. It is also non-toxic and hypoallergenic.
Are the pillows hypoallergenic?
Yes! Here's why: The Pillow Bar Down is the most pure European down available. It does not have quills or feathers like other company's "down." Feathers contain allergens in the quill, but not to worry our pristine down is feather and allergen-free. Our Down Alternative is made of proprietary blend of combed polyester fiber guaranteed to be hypoallergenic. 
How long will my pillow last?
Depending on your care and use, it's time for a new pillow after 2-3 years.
What's included with a pillow?
All pillows from The Pillow Bar come with a pillow insert (down or down alternative), a 100% cotton zippered outer pillow protector (and complimentary embroidery if chosen) and are packaged in our signature lavender canvas bag, perfect for gifting. Down pillows also include an aromatic lavender sachet–fun fact: the scent of lavender is proven to be calming and relaxing.
How and where are the pillows made?
All pillows are made one at a time in Dallas, Texas. Under the advisement of physicians, our team has been trained to craft the perfect pillow using our patented Pillow Bar technology.
What is my sleep style?
Your sleep style is determined by your waking position—either front, back or side–not how you go to sleep. If you're a combination sleeper or not sure, we've got you covered–check out our Sleep Style Guide.
What is a pillow protector vs a pillow case?
A pillow protector is the zippered, removable case that goes on the outside of the pillow insert to keep it fresh. A pillow case slips over your pillow insert and protector and typically matches your sheet set. One side is open ended so the pillow insert can slide in and out with ease.
How can I tell you more about my sleep style or pillow preferences before ordering?
When placing your pillow order, please add notes in the comments box before adding the products to your cart. Anything that affects your sleep is important to share. Have you had a back problem? Did you break your arm? Tell us! We care about your sleep and want to help improve your rest. 
I'm buying someone a gift. How do I choose the right pillow if I don't know their sleep style?
If you're unsure about this we can always mail the recipient a boxed gift card or email an e-gift card directly to their inbox. If you prefer a physical gift, we recommend that you select a medium filled pillow. Choose the size pillow you would like to gift and then select "Classic Comfort" from the sleep style options before adding the product to your cart.
How is the sizing on the Robes and PJs?
Robes are unisex sizing. The Turkish Towel Bathrobe fits up to Women's 16 and Men's XL. The Daydreamer Down Robe is available in Unisex S/M and Unisex L/XL. We like our PJs to be generous and extra comfy for lounging: Small (0-4), Medium (6-10), Large (12-14). 
How do I care for my items? 
Check out our Care Instructions or visit the product page for specific instructions regarding your item. 
Embroidery
Is embroidery complimentary?
Yes, that's our gift to you! Visit our Embroidery Guide for inspiration.
Why do you embroider the pillow protector?
The pillow is custom made for Y-O-U. Personalize your pillow protector with your name, initials or favorite dream-inspiring phrase to ensure you are sleeping on the correct pillow each night. 
What if my embroidery doesn't fit? Can I add more letters?
The personalization preview on our website allows the maximum number of letters (including spaces) we can accommodate on each product. If your text is longer than the allotted characters, we unfortunately cannot embroider it.
How should I monogram a gift?
You can go with the traditional route and choose a name or go more modern with a fun saying or three letter monogram! Check out our embroidery guide for some great ideas.
I want to add a personal or company logo to the products. Is that possible?
Yes! Please email info@thepillowbar.com with your image (.PES file) and our expert team will do our best to accommodate your request. 
Shipping
What is the shipping policy?
All orders are shipped within 5-7 business days of their receipt via UPS Ground. Please note, packages going to Alaska, Hawaii and Canada will have longer transit periods and may be shipped using an alternate shipping provider. 
Expedited shipping is available upon request at an additional cost. Please email info@thepillowbar.com for details.
Where do you ship?
At this time, we only ship to the United States and Canada.
What is the charge for shipping?
We offer flat rate shipping within the Continental US, from $5 to $15 in total depending on your order. Flat rate shipping Hawaii and Alaska is from $25 to $55 and Canada is $35 to $55. 
Use this text to share information about your brand with your customers. Describe a product, share announcements, or welcome customers to your store.
Orders & Payment
Can I make a change to my order?
After an order has been placed, we do not allow orders to be modified. Please review your order carefully when checking out. 
Can I cancel my order?
Please email us at info@thepillowbar.com within 1 hour of placing the order to cancel your order. Otherwise, the order will go into production. 
Can you adjust my pillow for a different firmness?
Yes, a comfort adjustment is exclusively available for products purchased directly from The Pillow Bar. Our team has been trained to make pillows according to the information (sleep style, height, age) our customers provide when ordering the pillow. Please email info@thepillowbar.com within 30 days of receipt to schedule a comfort adjustment. We do not charge for this alteration service and will send it back to you at no charge. All adjusted items will be shipped to you within 7 business days of receiving the item. 
Returns, Refunds and Warranty
What is the return policy? 
The Pillow Bar return policy is relevant for products purchased directly from The Pillow Bar website. 
All of our pillows are custom made to order therefore non-refundable. We offer a 30 day alteration period for pillows purchased directly from The Pillow Bar website, during which we can make comfort adjustments to your firmness. After that, we cannot alter the pillow.  
We gladly accept returns of non-monogrammed, unworn and unwashed items (excluding all pillows) within 30 days of purchase from The Pillow Bar website.
Any custom made, monogrammed or used product is non-returnable. However, if there is a defect with your product we are happy to replace your item free of charge.
Items received that are damaged, soiled or show signs of washing or wear, will be refused and sent back to you. Returns cannot be processed after 30 days.
Do you offer a pillow warranty?
Our pillow warranty is applicable to purchases directly from The Pillow Bar website. The fabric and construction of all The Pillow Bar down pillows is guaranteed to be free from defects for a period of one (1) year from the date of purchase. The use of an outer pillow protector in addition to adhering to our Care Instructions are requirements to maintain your warranty. We are not responsible for damage, improper care, or for fabric worn or stained by perspiration, liquid or oils. With every use, Cotton, Down and Down Alternative will absorb perspiration and body oils. We are not responsible for the softening or "breaking in" of pillows as a result. If you have an issue, please email info@thepillowbar.com with your warranty claim, a photo of the item and any questions. 
Will you apply a promotion to a past purchase?
No, promotions cannot be applied to past orders or combined with other offers.
Wholesale
Do you offer a trade discount to wholesale customers?
Yes! We love that designers, hospitality groups and retailers recommend The Pillow Bar to their clients, so we offer exclusive pricing to our retail and design partners upon acceptance into our wholesale program. For more details, click here. 
How do I join the Pillow Bar wholesale program?
Please visit our Wholesale page if you are interested in learning more or applying for a trade account. 
Contact Us
Still have questions? 
We're here to help! Email us at info@thepillowbar.com or give us a call  at 214-939-3696. 
Customer Service Hours
Please note, our Dallas studio is open by appointment only Monday to Thursday 10am-3pm. You can schedule an appointment by emailing info@thepillowbar.com. 
What retailers sell The Pillow Bar products?
Check out our store locator page!